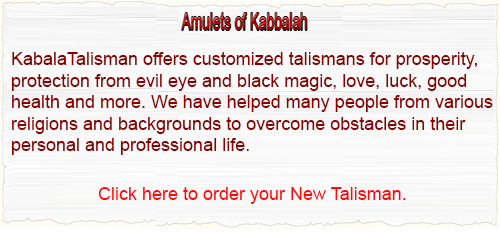 Rabbi David Azulai
Black Magic Protection, Kabbalah - Kabbalistic Comments (0)
Kabbalah Amulets are known for their ability to bring protection, luck, security, wealth, and health to their wearers. Each piece has its own set of mystical powers, allowing the wearer to select the one that best meets his or her needs.
The literal translation of the term Kabbalah is "receiving." This refers to receiving the hidden mystical truths behind Jewish thinking and traditions.
According to Kabbalistic tradition, knowledge of Kabbalah was orally transmitted by Patriarchs and sages in order to achieve full protection from black magic cast by witches and sorcerers. Kabbalah was initially studied by those wishing to understand the mystical aspects of the connection between man and God. Interest in this subject is now growing, as people seek hidden wisdom and protection that the material world cannot provide.
admin @ February 12, 2009
Click here - Order Talisman Amulet
No Comments